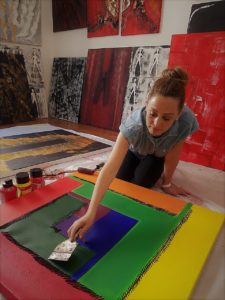 ADI KICHELMACHER was born in Israel in 1979.
Since young she has a predilection for painting, she likes to create, to transform, to write and to take pictures. She cuts the canvas and sews it like a dress.
The stitches are her trademark that symbolize sometimes an object, a thought, a state of mind, connecting the past, the present and the future.
In 2006 she graduates at the Shenkar University of Tel Aviv in fashion and textile design. In 2007 she moves to Rome where she works as a stylist and textile designer, she creates fashion collections, materials and accessories.
In 2016 she goes back to her true love, painting. During the pandemic, the artist Adi Kichelmacher wanted to create works that evoke only happiness, joy, cheerfulness, optimism, simplicity. By creating simple shapes full of bright colors, Adi influences the viewer in a positive way, conveying joy, happiness and hope. The idea comes from the word "tikva" that in Hebrew means to be strong in difficult moments .We define this new movement: HOPE ART …..