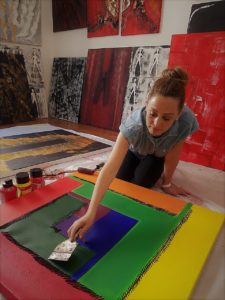 ADI KICHELMACHER was born in Israel in 1979.
Since young she has a predilection for painting, she likes to create, transform, write and take pictures.
She is very fascinated from the paintings of Gustav Klimt and she creates a series of paintings about women that are also influenced from fashion world: "figurative emotion". She draws still life, landscapes, she test different materials also textiles, and creates a new abstract language that talk about colors, emotions and inner world.
In 2006 she graduates at the Shenkar University of Tel Aviv in fashion and textile design.
In 2007 she moves to Rome where she works as a stylist and textile designer, she creates fashion collections, materials and accesories.
In 2016 she goes back to her true love, painting. The possibility to create, to express her inner world, to use emotions and think different, create a new language, is everything for her.